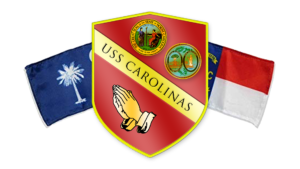 USS Carolinas
A Strikeforce of Prayer Ministry
Gooooooooooooooooooooooood Cackalackian! Hello and welcome to the USS Carolinas. All Aboard!
We gather together on a weekly conference call to pray for the Carolina's and our Nation's needs. 
The Conference Call
Focus: important issues facing North and South Carolina!
Leader: Ziyaah Hilton
Contact: [email protected]
Call: 515-604-9917
Code: 576444#
Times:
BROTHERS ONLY INTERCESSION:
Every 1st/3rd Tuesday
10:25 AM EDT
Every 1st/3rd Thursday
3:15 PM EDT
Tuesdays: 10:25 AM EST – 11:45 AM EST 
(Zeroing in on and narrowing down the title to) Charlotte, Triad, King's Mountain, Cherokee County, RNC/Carolinas' GOP
Thursdays: 3:15 PM EST – 5:00 PM EST
(Zeroing in on and narrowing down to) SMALL counties, Raleigh, Cary, Chapel Hill, College Student living areas
Fridays: 12:00 PM EST – 2:00 PM EST 
(Zeroing in on and narrowing down to ) Farmers, Johnston county, Dare County, Chowan County, The Banks
Sisters only intercession:
Every 2nd Friday
12:00 PM EDT
*Fridays: 4:00 AM EST – 6:00 AM EST
(Zeroing in on) law enforcement, military/truckers and officials elections, Boris Johnson
WAR ROOM:
Every First & Last Saturday
2:00 PM EST – 2:30 PM EST
**Recording will be on**
Prayer Request or Contact Us 
Do you have a request or have you seen something that needs to be prayed for? Send us your prayer request below and we will join you in your prayers. We are all warriors for Christ and one of the weapons we have is prayer. Do not let your prayers go unheard. Send us your prayer request, and we'll pray for you.
Or, if you have questions about our ministry or how you can be involved, use the form below to send us a message, and we'll be in touch as soon as possible.