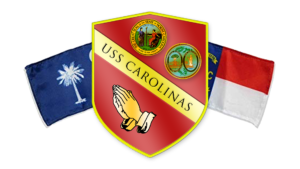 USS Carolinas
A Strikeforce of Prayer Ministry
Gooooooooooooooooooooooood Cackalackian! Hello and welcome to the USS Carolinas. All Aboard!
We gather together on a weekly conference call to pray for the Carolina's and our Nation's needs. 
The Conference Call
Focus: important issues facing North and South Carolina!
Leader: Ziyaah Hilton
Contact: [email protected]
Call: 515-604-9917
Code: 576444#
Time:
Tuesdays 1050 AM EST-12 PM EST(Appalachian Blue Ridge and Mountains/Breaking of Witchcraft and nature worshippers) Western Carolinians Fellowship
Thursdays 4:35 PM EST- 6:25 PM EST Piedmont (Surrounding Sister States/Governors/Capitals/Small Towns and Counties) Central Carolinians Fellowship
Fridays 4:45 PM EST – 6:15 PM EST Coastal (OBX/IBX/Historical Sites/Farmers/Shalom for the Weekend) Eastern Carolinians Fellowship
Prayer Request or Contact Us 
Do you have a request or have you seen something that needs to be prayed for? Send us your prayer request below and we will join you in your prayers. We are all warriors for Christ and one of the weapons we have is prayer. Do not let your prayers go unheard. Send us your prayer request, and we'll pray for you.
Or, if you have questions about our ministry or how you can be involved, use the form below to send us a message, and we'll be in touch as soon as possible.